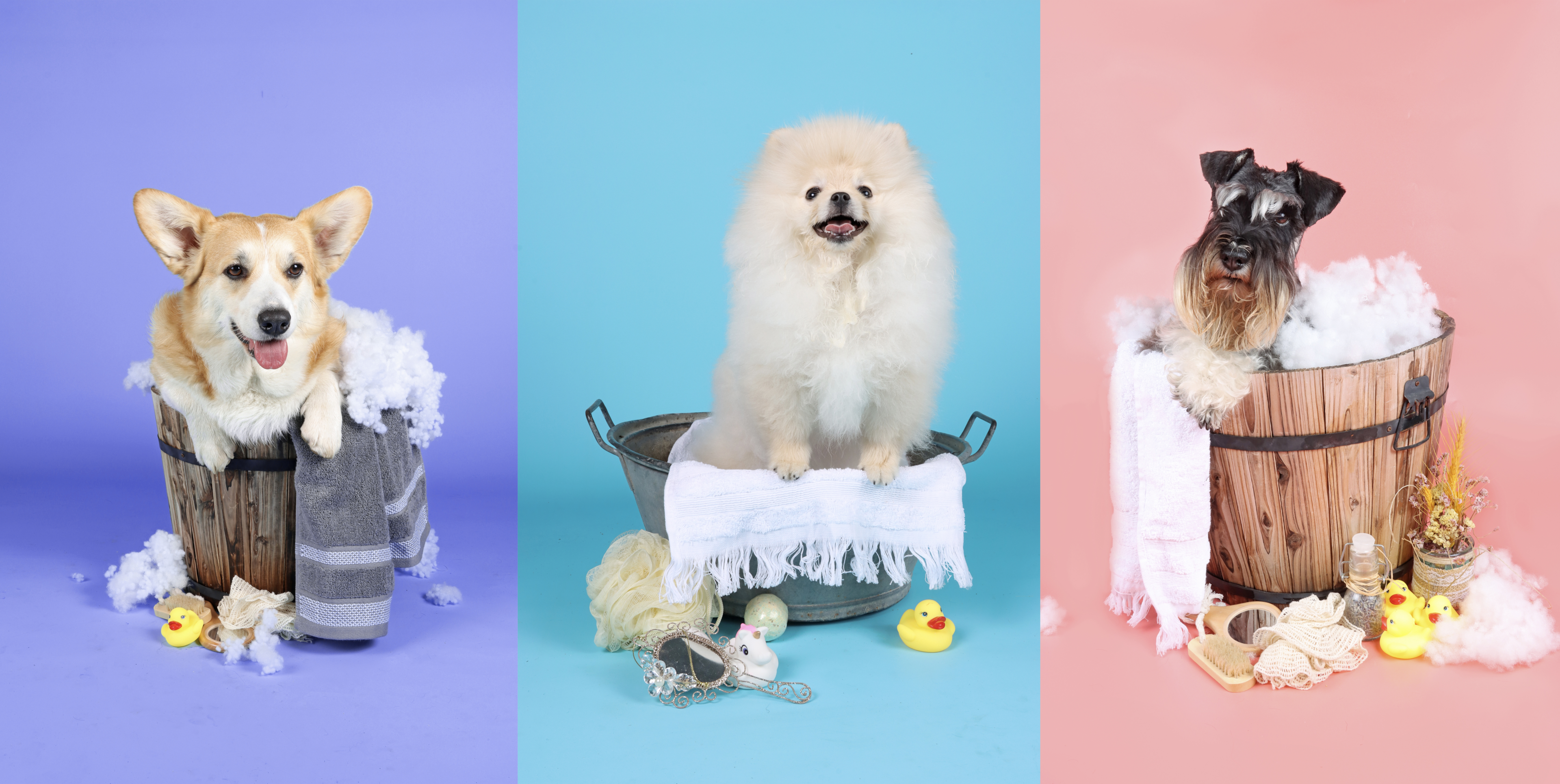 Best Mobile Dog Grooming Supplies: Dog Tubs, Dryers, and Tables
When it comes to pet care, we emphasize the importance of using the right equipment to best help ensure the well-being and happiness of our furry friends.
The quality of the dog grooming tools you choose can help make a significant difference in both your and your pet's grooming experience.
In this article, we meticulously explore leading choices in dog grooming, focusing on dog tubs, dryers, and tables, offering insights to help you make informed decisions for your canine companion.
Elevate Your Grooming Experience: Discover the Ideal Dog Bath Tub
A dog grooming set up tub is a fundamental element in the home dog grooming, and bath process, crucial for a meticulous and efficient cleaning and bathing routine. It's designed to cater to various dog sizes, ensuring comfort and security during baths.
Its user-friendly features such as adjustable heights and easy access points simplify the grooming process, minimizing water spillage and aiding in effective waste management.
A well-constructed pet grooming tub is more than a tool; it's essential for maintaining optimal hygiene standards, contributing significantly to the overall well-being and happiness of our canine companions by providing a thorough and stress-free cleaning experience.
Shelandy Heavy Duty Dog Bath Tub

The Shelandy 45" Pet Grooming Bathtub offers an unparalleled bathing experience for pets.
Designed with a non-slip bottom, it ensures dogs remain steady and secure during bath time. Enhancing its full bath functionality, it comes equipped with a 5-foot drain hose and a grooming leash, guaranteeing pet safety and easy water disposal. Its foldable, real stainless steel legs offer both durability and space-saving full bath convenience. Crafted from fade-resistant Polymer material, this dog wash tub for home only can be stored outdoors without compromising its appearance.
With a robust build, it confidently supports pets weighing up to 150 lbs. Truly, it stands out as one of the most stable and efficient pet tubs available.
Dakota 283 Groom Pro Pet Tub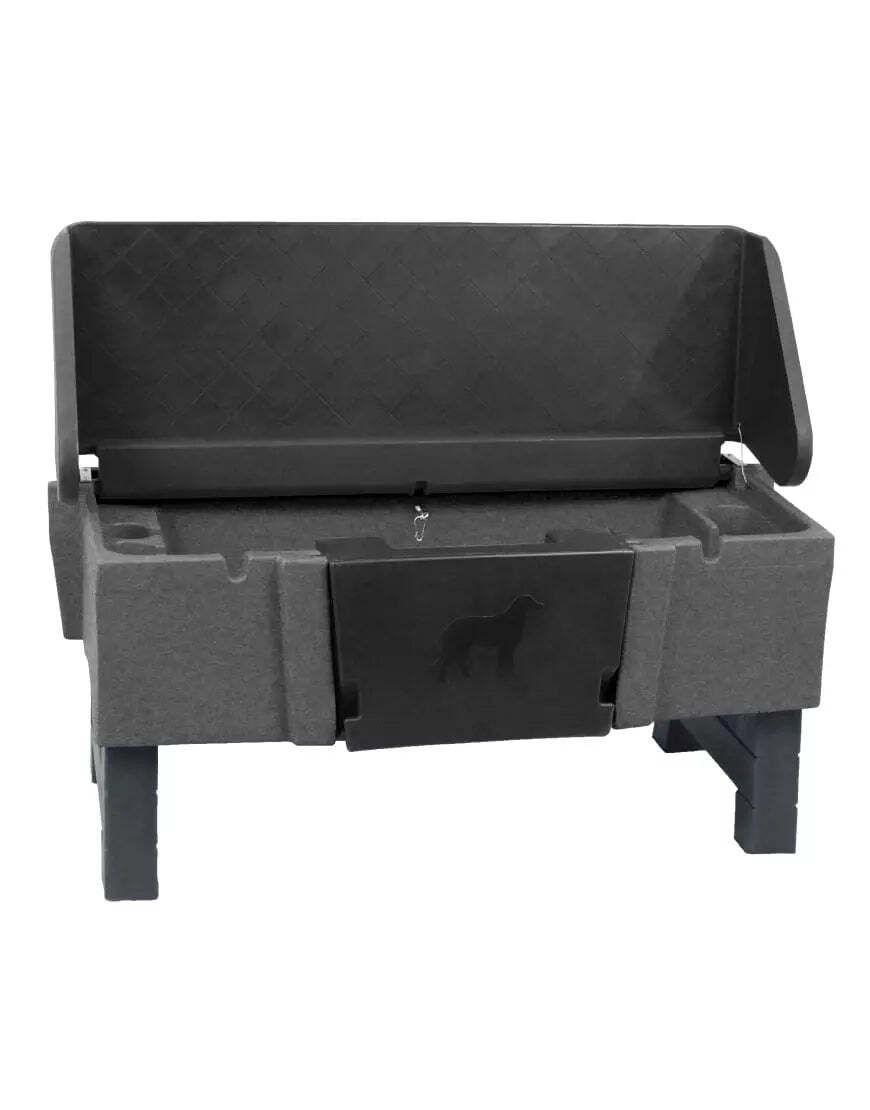 The Groom-Pro Pet Tub™ is a versatile pet grooming tub and station designed for the meticulous pet owner. Crafted to accommodate most domestic pets, its compact design ensures space efficiency.
Unique features like the reversible door that doubles as a step stool for smaller pets, and deep pockets for organizing cleaning essentials, highlight its multifunctional nature. Safety is paramount, with a leash hook ensuring pet security. Notably, the soft mesh drain cover material facilitates easy cleanup and hose attachment options.
When not in use as a tub, it transforms into a raised grooming table. Constructed from paw-friendly plastic, it promises durability and quick cleaning.
Proudly made in the USA, it offers a 1-year manufacturer's warranty and requires no tools for assembly, making it a favorite among home users, professional , and vets.
Shelandy Stainless Steel Professional Dog Grooming Tub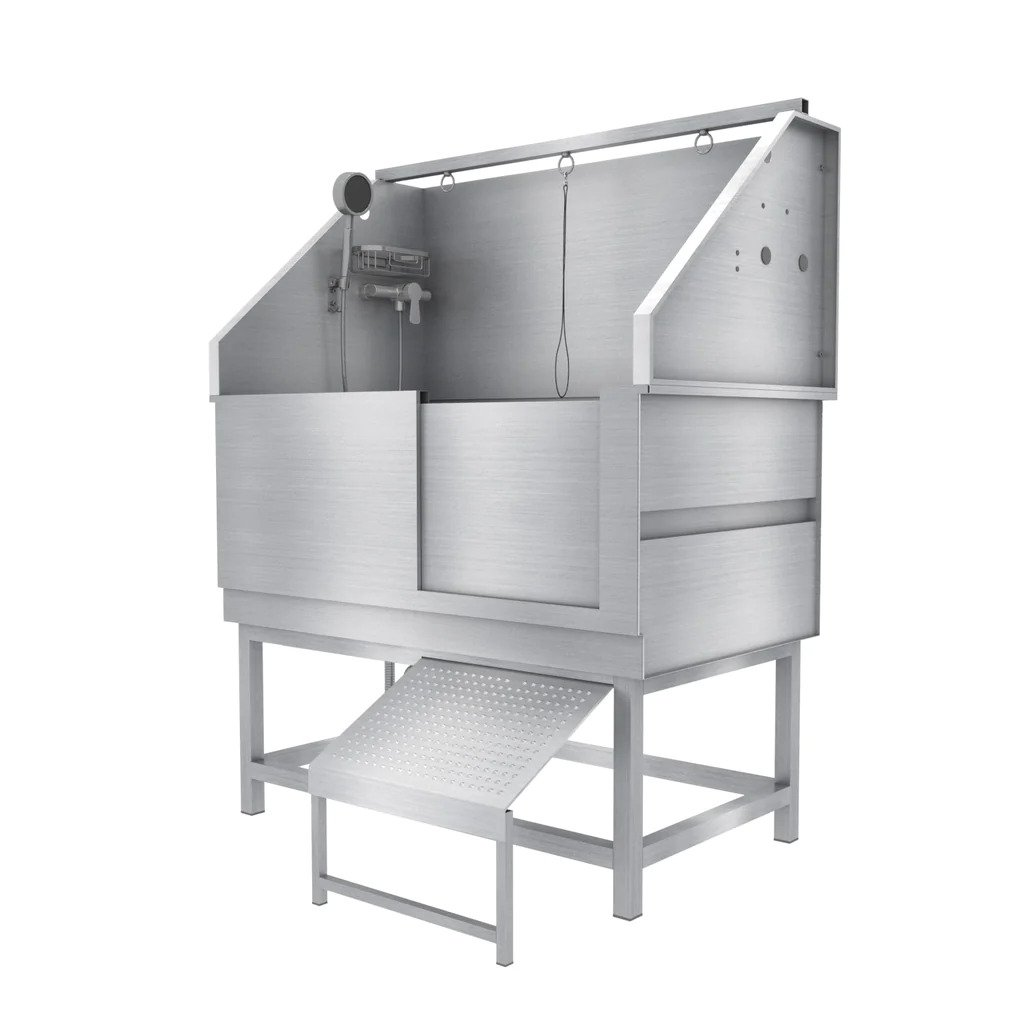 The Shelandy Stainless Steel Professional Pet Wash Station is an epitome of durability and convenience. Constructed from heavy-duty stainless steel, it promises longevity while being resistant to rust, ensuring easy maintenance.
Specifically designed to cater to the high standards of professional groomers, it comes equipped with essential features for a seamless pet grooming kit washing experience. Its non-slip pet ramp, crafted from sturdy stainless steel, coupled with an easy-access sliding door, allows even larger dogs to enter and exit without the need for lifting. The built-in overhead dog grooming table arm, complete with adjustable loops, ensures the pet's security and comfort.
Additionally, its innovative removable floor crate can be adjusted to accommodate different dog sizes, preventing scratches and enhancing stability.
Assessing Your Needs: Choosing the Right Dog Grooming Table
Selecting the appropriate grooming table is pivotal for any professional or at-home grooming endeavor. This best dog grooming table also forms the bedrock of the entire grooming routine, determining both the comfort of the dog and the efficiency of the groomer.
A well-suited professional dog grooming table accommodates varied dog sizes, provides stability, and offers ergonomic benefits, ensuring minimal strain on the groomer. Its height, surface material, and design can significantly influence the quality and speed of grooming tasks.
In essence, an optimal, dog blow dryer grooming bath tub and table not only streamlines the dog grooming hair dryer and process but also ensures safety and enhances the overall experience for both the pet and the owner.
Shelandy Electric and Heavy Duty Dog Grooming Table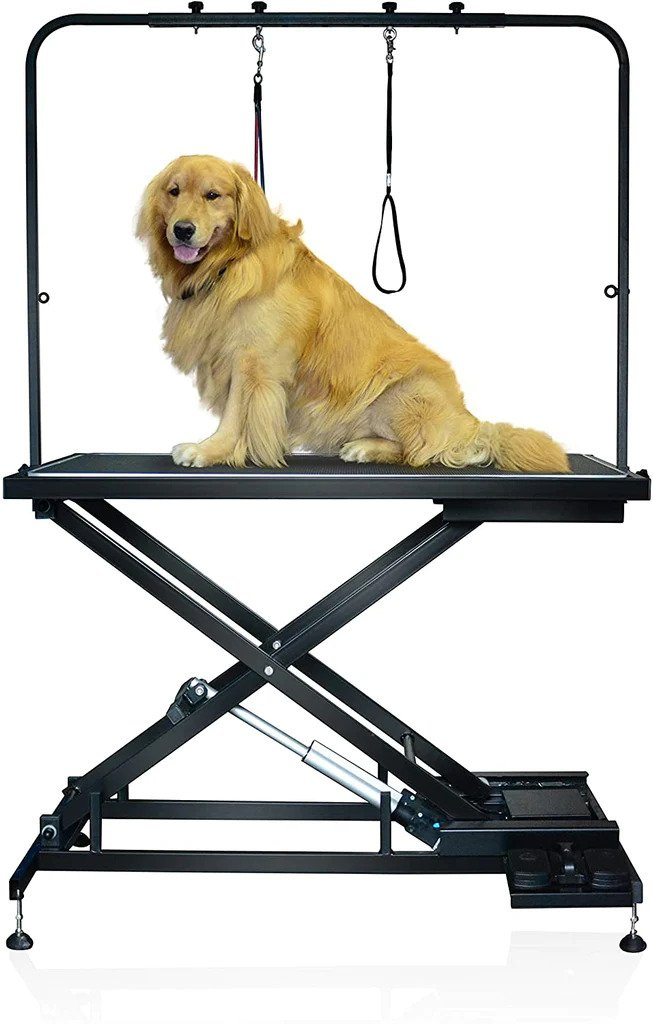 The Shelandy Pet Grooming Table is a state-of-the-art, all electric dog grooming table and heavy-duty equipment, designed to simplify the grooming process for pets of all sizes.
With the capacity to hold up to 250 lbs, it is a hydraulic dog grooming table that's suitable for both professional and home grooming, ensuring wobble-free stability with its adjustable rubber feet and a waterproof, non-slip, and scratch-proof PVC matting surface. It boasts electronic controls and foot pedal for smooth height adjustments from 11 to 37 inches, allowing for versatile, grooming tub for large dogs of various breeds. Including a grooming arm and loops, with the option to add more, this table is a revolutionary addition to grooming routines, particularly after baths or showers for heavy coat dogs.
Its durable construction, easy cleaning, and storage convenience make the Shelandy electric table a game-changer for pet groomers.
Shelandy Folding Portable Dog Grooming Table
The Shelandy Folding Portable Pet Grooming Table is a perfect blend of convenience and professional-grade features.
Measuring 32" in length, 20" in width, and 32" in height, its compact size does not compromise its functionality. Designed with mobile groomers in mind, it boasts four removable legs for optimal portability and easy storage.
Its professionalism shines with a 30" height-adjustable arm, a reliable large dog grooming table restraint, and a robust clamp. The large dog grooming table's frame is crafted from durable stainless steel, while the tabletop is fashioned from integrated plastics, ensuring it's waterproof, slip-resistant, and wear-resistant. Ideal for grooming, trimming, and drying, it's a versatile tool that promises ease in both assembly and storage.
Shelandy Dog Grooming Table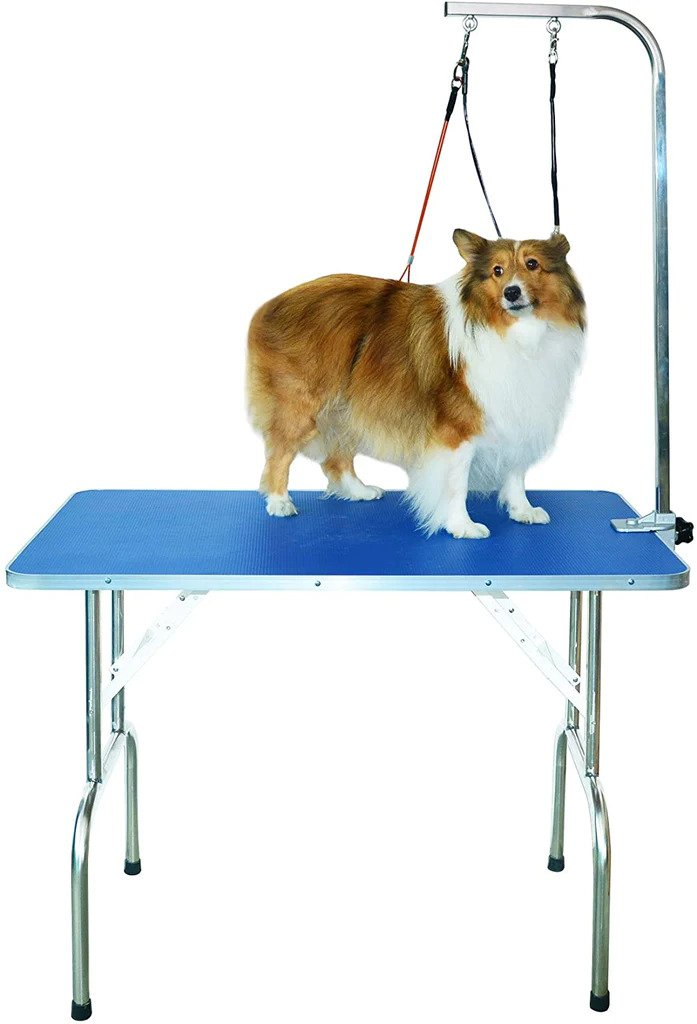 The Shelandy Pet Grooming Table is meticulously designed, offering dimensions of 43.5 x 23.5 inches and a maximum capacity of 200 lbs, catering to a diverse range of sizes of pet grooming needs.
It comes equipped with all grooming necessities, including a 35" height-adjustable arm, grooming restraint, and a sturdy clamp. Crafted with heavy-duty stainless steel, it's foldable, durable, and structured to accommodate various grooming activities like trimming, dressing, and drying. The high-quality rubber matting tabletop is waterproof, anti-slippery, wear-resistant, ensuring a secure grooming environment.
This table stands as an ideal choice of options for pet grooming, combining quality and convenience.
Feature-Rich Solutions: What to Look for in a Dog Blow Dryer
Investing in a high-quality dog dryer for dog grooming, is vital for those dedicated to the care and grooming of their pets.
Such a dryer plays an integral role in thoroughly eliminating moisture after a bath, ensuring that the dog's coat is left dry and free from potential skin irritations. Not only does this enhance the dog's comfort, but it also paves the way for high velocity dryer for dog grooming and a more streamlined grooming regimen.
A swift and efficient drying session prevents matting, reduces the risk of fungal infections, and ensures the coat's lustrous appearance.
Ultimately, a premium dog dryer is the key to a holistic and efficient grooming experience.
Shelandy Dog Grooming Twin Turbo Pet Dryer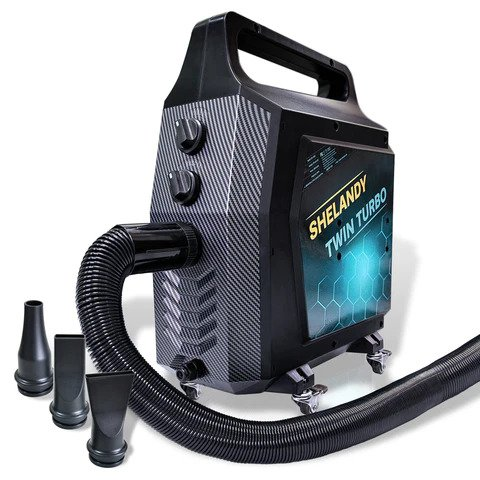 The Shelandy Twin Turbo Pet Dryer is a premium dog grooming force dryer, ideally suited for dog grooming salons and owners of large dogs.
It boasts unbeatable airflow volume, equipped with twin turbos and a powerful 3050 watts, ensuring quick and efficient drying. The dryer offers four settings of airflow volume and comes with a quality hose that can stretch up to 6-1/2 inches, facilitating ease of use.
It also includes three types of nozzles and four caster wheels for enhanced mobility. With a one-year warranty and a hassle-free return within 30 days of arrival, it promises reliability and satisfaction.
K-9 Mini Dog Dryer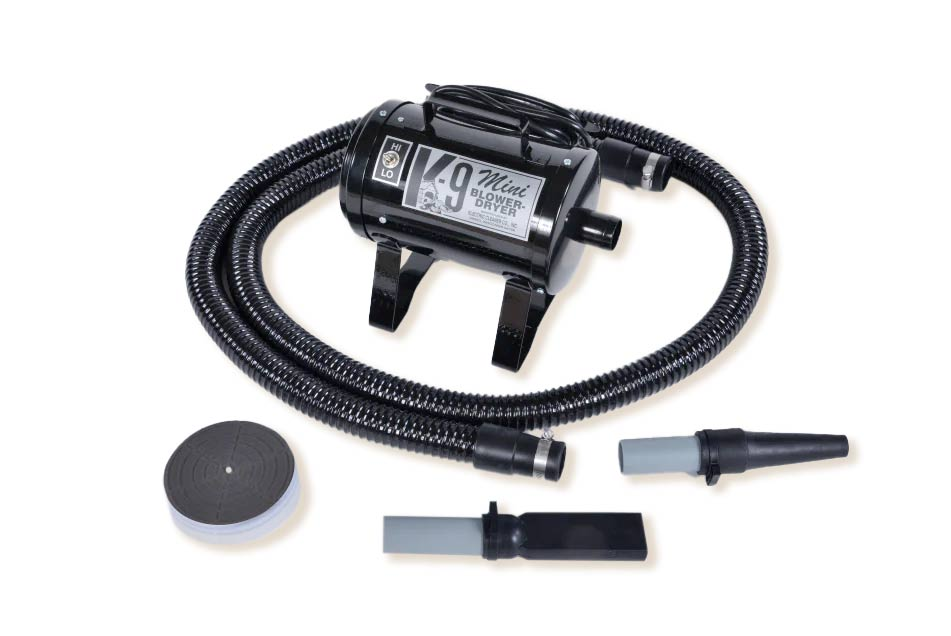 The Mini K-9 Dog Dryer stands as a formidable combination of compact design and potent performance.
With a robust single motor, it's the go-to blower/dryer for shows, owing to its easy storage and transport attributes.
Its efficient power consumption makes it ideal for generator use or venues with limited power supply.
Crafted with an 18-gauge powder-coated steel body and equipped with a 10' hose, it offers two speeds and temperatures, catering to both small and large dogs. Available in a diverse color range, it underscores a commitment to quality workmanship.
Globally recognized, the Mini K-9 is lauded for its unparalleled vacuum power, reducing grooming time, and elevating the grooming experience. Regular maintenance and repairs are facilitated through dedicated service centers, underscoring its enduring value.
K-9 I Dog Dryer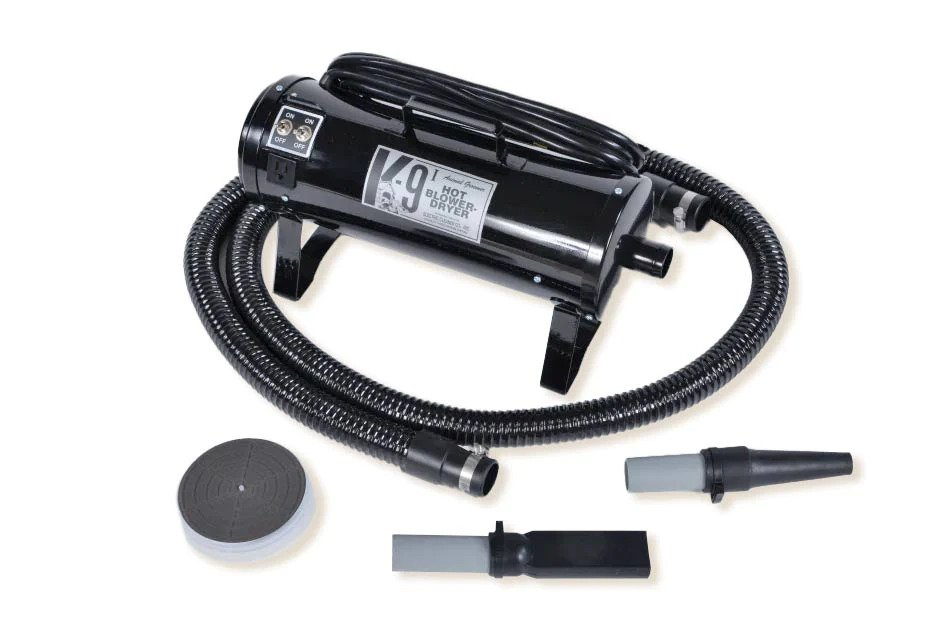 The K-9 I Dog Dryer blower is a compact yet powerful solution, boasting dual motors in the smallest blower of the K-9 line.
This unit, standard with a 10' hose, blower, clipper tip, and filter, provides flexibility with two speeds and temperatures, allowing tailored grooming for each pet. It's portable, lightweight, and can be suspended or set on the ground, featuring an 18-gauge steel body and a 120 Volt utility outlet for clippers.
CSA approved and available in multiple colors, it offers uncompromised quality and convenience.
Known for reducing grooming time and easy operation, it's one of the world's most powerful portable vacuums and blowers of its kind. The long-serving manufacturing and assembly team, averaging 15 years, ensure each unit is crafted with meticulous attention to quality, reflecting their experience and dedication to superior workmanship.
Essential Tools for a Clean Canine: Dog Grooming Tools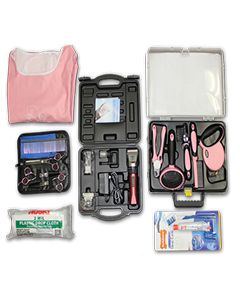 A well-groomed dog doesn't just look good, it reflects the love and attention given by its owner. It's crucial to have the best grooming tools to make sure your pet both looks and feels top-notch.
For those who put their pets' health and appearance at the forefront, the CORDLESS TRIMMING CLIPPERS, 4 PIECE SCISSORS KIT SET, BRUSH SET, DOG CLIPPERS, TOOTH BRUSH & TOOTHPASTE, WATERPROOF APRON, and PLASTIC DROP CLOTH provide a comprehensive dog grooming starter kit solution.
Grooming your pet in the right way plays an indispensable role in their comprehensive care regimen. By equipping yourself with the right dog grooming tools, you don't just pave the way for financial savings but also transform grooming from a routine task into a joyous activity.
Our carefully chosen collection of the finest dog grooming kits stands as a testament to quality and efficiency. It ensures that pet owners, irrespective of whether they're beginners or seasoned groomers, can deliver professional-standard grooming outcomes without leaving the familiar surroundings of their home.
These high-grade dog grooming supplies elevate each grooming encounter, making it an intimate, bonding experience filled with shared moments of affection.
However, it's essential to note that these best dog grooming kits are not just an assortment of tools. They symbolize a deeper dedication to the overall well-being, health, and aesthetic appeal of your beloved pet.
The right grooming tools do more than making your dog presentable; they play a pivotal role in ensuring they are comfortable, happy, and in the best of health. This holistic approach to grooming not only enhances your pet's physical appearance but also enriches their quality of life.
Conclusion
Regular grooming can help in early detection of skin issues, reduce shedding, and strengthen the bond between pet and owner. Whether you're a novice pet owner or a seasoned dog lover, having a complete grooming kit and equipment is paramount for a happy and healthy pup.
We understand the importance of finding the right grooming equipment to ensure a stress-free and enjoyable experience for your pets.
The products highlighted in this article are known for their quality, durability, and user-friendly features, making them leading choices in dog grooming.
Whether you are a professional groomer or a pet owner, prioritizing the comfort and safety of the animals is crucial. The right tub, table, and blow dryer for dog grooming, can significantly impact the overall grooming experience, creating a pleasant environment for both the pet and the groomer.